There are weeks worth of sites to see and history to learn in this amazing city. Here is a taste of the city we explored with three kids ages 8, 10 and 12.
From narwhals to Neanderthals, this museum has it all.  An African elephant, a mummified cat, and the Hope Diamond.
10th St. & Constitution Ave. NW, Washington, D.C. 20560
This one is located on the National Mall. We did not visit this one because we heard the Steven F. Udvar-Hazy Center (still a Smithsonian, further away) was bigger.  Both are free admission, so it depends on your ability to travel farther and how much time you have.
Independence Ave at 6th St. SW, Washington, D.C. 20560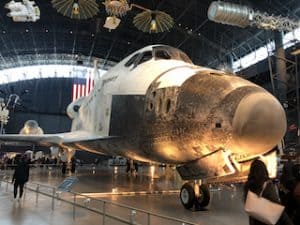 So worth riding to the end of the Metro line and taking an Uber the rest of the way to Chantilly. It was AMAZING! We saw the space shuttle Discovery, the Concord and the Enola Gay. If you are an audio tour nerd like me, you will LOVE this one.
14390 Air and Space Museum Parkway, Chantilly, Virginia 20151
Must sees here are the Star Spangled Banner (it is absolutely amazing), Lincolns hat (I kid you not! His actual famous hat!), a display of the Inaugural gowns of the First Ladies (breathtakingly beautiful), Julia Childs kitchen, George Washingtons uniform, and Edisons lightbulb. So much history in this museum.
Constitution Ave. NW [between 12th & 14th St.], Washington, D.C. 20560
See how bills are printed. This is a guided tour that last about 40 minutes. Admission is free but you must have a ticket, which are first come first serve.
14th and C St. SW, Washington, D.C. 20228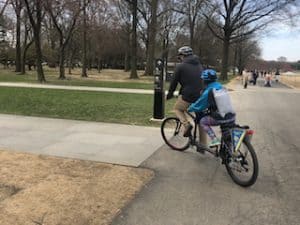 Rent a Bike and tour the Monuments and Memorials. Bike and Roll can set you and your kids up with bikes and helmets and get you on your way.  They rent by the hour and it took us, on a busy Friday, four hours at a leisurely pace.  Hands down, my favorite part of the trip. Here's a map to guide you to all the memorials and monuments.
This was the longest line we waited in, and the grumpiest guards, but you have to go. Highlights are definitely, The Constitution, The Bill of Rights, The Declaration of Independence, and the Magna Carta.
Constitution Ave. NW [between 7th & 9th St.], Washington, D.C. 20408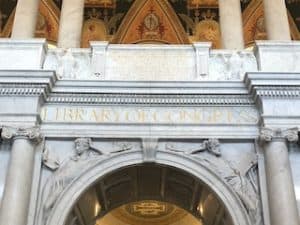 My book-loving kids and I could have stayed here all day, and would still want to come back. First of all, it's my favorite building in Washington D.C.  It is so beautiful.  Second, books! Need I say more?  But, I will anyway.  On the ground floor, tucked in the back is the Young Readers Center, they have braille copies of Harry Potter. On the first floor you'll find the Gutenberg Bible, and on the second floor, Jeffersons library.
Thomas Jefferson Building 10 First St. SE, Washington, D.C. 20540
The changing of the guards at the Tomb of the Unknown Soldier, is something that every American should experience. Words cannot describe this ceremony.  If it's not on your bucket list, go put it on now.
Arlington National Cemetery, Arlington, VA 22211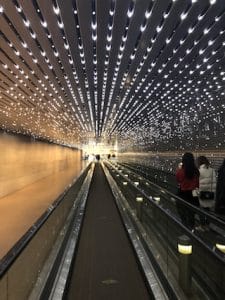 I felt like angels were singing down on us the whole time we were there.  Well, except for when my daughter tripped and almost wiped out a Calder display. We spent most of our time in the East building and in the Sculpture Garden. There is an underground walkway from the east to the west building that is super cool. Don't miss the blue rooster on the roof!
6th & Constitution Ave. NW, Washington, D.C. 20565
This is not a Smithsonian, so admission is NOT free, but the kids loved it and I felt like it was worth the cost. Just stay away from the gift shop.
800 F St. NW, Washington, D.C. 20004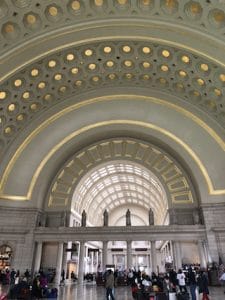 Even if you're not catching a train, come to check out the architecture, eat some lunch and shop a little.  It's a spectacular building.
50 Massachusetts Ave. NE, Washington, D.C. 20002
I'm a huge fan of double decker bus tours and Big Bus Tours is my favorite one. I like to spend the first day in a new city on a bus tour and then add to my list of places to go.  Make sure to bundle up. It gets chilly up top, but it's got the best view.
Just being in this theatre was surreal.  It's an intimate theatre with a rich history and we were blown away by the production, The Wiz. Such a magical night.
 Washington, D.C.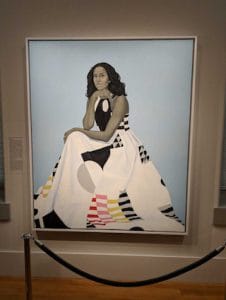 Another building of magnificent art. The portraits of the Presidents was a stroll through art history. I loved seeing the relaxed, humanistic traits appearing as time has evolved.  Michelle Obamas portrait was inspiring as well as many others.
8th and F St. NW, Washington, D.C. 20001
Contact your local representative and request a tour in advance.  We were able to get a tour with interns from our home state.  They did a fantastic job.
East Capitol St NE & First St SE, Washington, DC 20004
Tours have to be scheduled with your congressmen in advance. We were denied a tour (which is common). However, you can still walk around outside the gates and get the obligatory picture in front.
1600 Pennsylvania Ave NW, Washington, DC 20500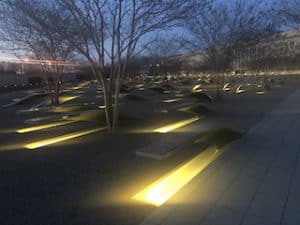 For best view, visit at night. Download the audio tour from this link or call (202)741-1004 at the entrance and the audio will lead you through various points of interest.
1 Rotary Road, Arlington, VA 22202
Now, Go. See. Do.
~meemish